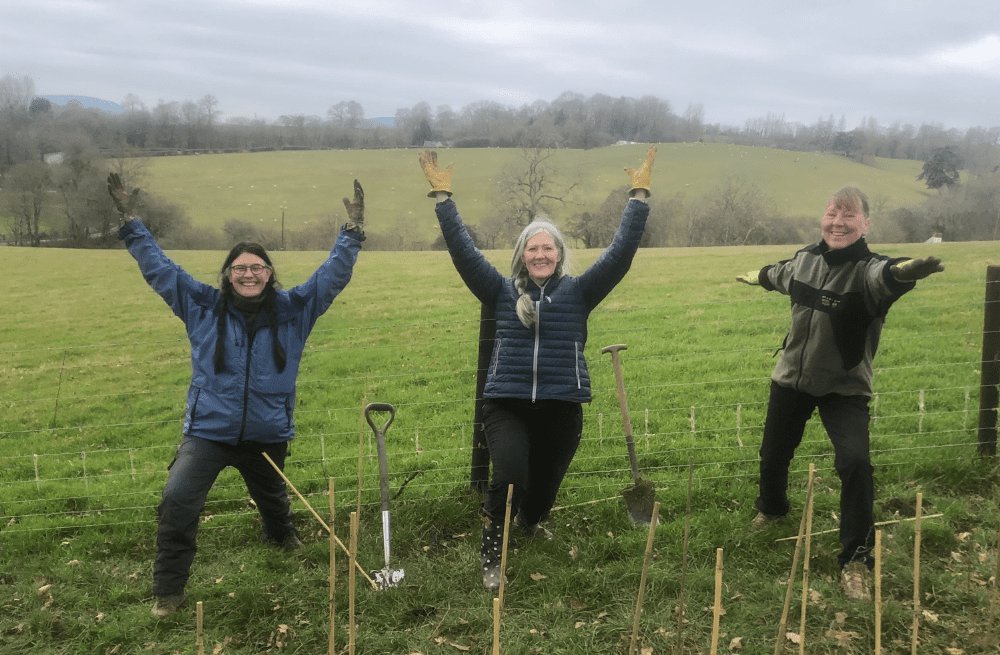 BWY launches Yoga in Action campaign to combat climate change
The tree-planting initiative unites communities in conservation efforts
Following the success of our 'For the love of tree's' campaign last year, BWY (British Wheel of Yoga) is proud to announce its renewed commitment to the planet in collaboration with environmental charities across the UK. The campaign seeks to sow new life into our planet.
Last year's campaign saw BWY volunteers come together to plant over 1,500 trees, demonstrating the dedication of BWY members who willingly gave their time to help combat climate change. As part of our Yoga in Action: Environment campaign, it provides another opportunity for BWY members and the wider yoga community to get closer to nature and give something back.
BWY Chair, Di O'Reilly, the driving force behind this campaign and a passionate environmental activist says:
This campaign is the true essence of Karma yoga – selfless action to the Earth and a legacy that will keep on giving for generations to come. It was a great opportunity to come together with BWY members to embrace the great outdoors and sow the seeds of hope for our planet's future.
If you are interested in getting involved, please find a list of tree-planting events below.
Additionally, the Woodland Trust is generously offering free tree packs, which you can claim here: Free Trees for Schools and Communities – Woodland Trust
How to get involved
Please be advised that the community projects that we work with are keen for local people to join where possible. We will update the list with dates and times as we receive further information.
Trees for Cities, London
Public tree planting events in London
Get involved – in the Midlands
The Heart of England Forest, Warwickshire and Worcestershire
01 November 2023 to 29 February 2024
This year, the Heart of England Forest is hoping to plant around 30,000 trees in new woodland, and additional trees in existing woodlands. All volunteers are warmly welcome to become involved.
Fruit & Nut Village, Birmingham
Fruit and Nut Village organise regular tree-planting events in the Birmingham area during the winter months, particularly in Druids Heath, Stirchley and Balsall Heath.
Community Trees Milton Keynes
We are a community group facilitating the planting of 1,000 trees a year.
Dates for 2023-24 are currently being finalised.
Contact Greg if you wish to volunteer by clicking on the Find out more button.
Harborough Woodland Community, Northampton
We are planning our winter events to add to the 34,000 mostly free trees we have planted since 2020.
Click to join the Facebook group for the latest events.
Get involved – in the North
Northumberland Wildlife Trust
From late October onwards, we will have lots of opportunities to plant trees at public events across Newcastle and North Tyneside.
Get involved – in Scotland
Trees for life, Scottish Highlands
Our mission is to rewild the Scottish Highlands by enabling the restoration of the globally unique Caledonian Forest which once covered much of Scotland. Integral to our success is the involvement of people. Our next rewilding project will be in March-May 2024.
Get involved – in the South
Bladon hedge of hope, Oxford
Get involved in planting a wildlife hedgerow along a footpath in the village of Bladon.
Dates to be finalised at the end of October, click on the link to email the organisers.
Get involved – in the South East
Trees for Farms, Swale Kent
Sunday 15 October 2023, 10am
We invite you to help us care for our newly planted trees to give them the best chance of survival. Click on the link to email the organisers.
Get involved – in the South West
Avon Needs Trees, Bristol
Tree care days every Thursday from 16th November 10.00 – 15.00pm
Ed Woods, Bodden, Bristol, BA44PU
Goetre Villas Woodlands, Lampeter
This winter, we are looking for volunteers to help maintain and plant a further 10,000 trees in our 48-acre small holding.
Dates being finalised, click the button to email for more information.
Stump Up For Trees, Brecon Beacons
December 2023 – end of February 2024
Stump Up For Trees is planting 20,000 trees with volunteers at a variety of sites across the Brecon Beacons area in south Wales.
Click the button to email and sign up to their volunteer group and find out more details about tree planting events.
About BWY
British Wheel of Yoga (BWY) is committed to promoting a greater understanding of yoga and its safe practice through experience, education, study and training. Serving 5000+ members across the UK, BWY is a leader in developing high-quality yoga teacher training and champions yoga through events and festivals across the UK. A registered charity and established in 1965, BWY is recognised as the National Governing Body for Yoga by Sport England and Sport Wales.