Are you new to yoga and wondering how to get started?
We all started somewhere. We've all been new to a yoga class. Like anything, the biggest hurdle is getting in there and having a go. The good news is you don't need fancy equipment to try it and yoga's holistic approach means the benefits are much more than physical.
To begin your yoga journey, find a class, workshop, event or retreat with a BWY teacher, click here:
Let's get started
Have a look through these frequently asked questions and if you don't find your answer, just get in touch and we'll try to help.
You can search our directory for yoga teachers offering classes both in-person and online.
All BWY yoga teachers are trained to the minimum 300-hour requirement so you can rest assured that your needs will be met.
Simply go to Yoga Search and either enter the city, town, or postcode where you would like to practice. You can further narrow your search by name or keyword, like 'beginners'.
Simply scroll down the list of results and select the one that appeals to you.
Yes, you can. There's plenty of online options today and we have teachers who specialise in everything from yoga for menopause to chair yoga.
We suggest you borrow a yoga mat and see whether you enjoy it before you buy one. You can practice in any clothing that's comfortable – that you can move in. Many yoga teachers have a supply of mats and props for students to borrow and if you're doing yoga at home there's plenty of household items that can double as yoga props to support you in your practice.
We'd suggest a gentle beginners' class, if you're new to yoga but there are many different styles.
There are many styles of yoga. Hatha yoga is an umbrella term for several styles rooted in a physical practice. There are other types of yoga, like karma yoga, the yoga of action.
Hatha is the umbrella term but if you see a class described as 'hatha' you can expect a class that has physical postures. Breath and guided meditation practices are often included as is a relaxation practice, usually at the end of the class.
Viniyoga was developed by TKV Desikachar and his father, Krishnamacharya, a twentieth century yoga pioneer. It uses slow flowing movements and is a breath-centred practice.
Vinyasa is a fluid form of yoga, in its practice you will be moving from one posture to another, coordinating with the breath. It can be quite athletic. Power yoga is a form of vinyasa.
Ashtanga is a physically strong form of yoga made up of set sequences – primary, intermediate and four advanced series. Each has a set sequence of postures and the victorious breath (ujjai) is central to its practice.
Iyengar is a much more static form of yoga. Practitioners remain in one posture for several minutes while adjusting the fine posture they are in, tuning the fine detail. It is named after BKS Iyengar, its founder.
Yin and restorative yoga are much more static, floor-based yoga practices where you might spend several minutes in a posture, supported by props, to help your body find its ease.
Chair yoga is a very popular form of yoga and is taught all over the UK. There are BWY yoga teachers who specialise in this type of yoga. Many will have completed further training in our BWY Gentle Years Yoga course to help people who struggle to get up and down on the mat, have physical restrictions, such as balance issues, arthritis or other reasons, such as dementia, which mean that a regular yoga class isn't going to work for them.
Yoga therapy is intentionally directed to a specific aim or aims in relation to a health condition, whether on a physical, psychological or spiritual level. The yoga therapist and client are jointly involved in a therapeutic process.
Yoga is about finding our own place with a posture and moving from there. Every body is different. Everyone's internal experience is different.
Allie John
BWY Yoga Teacher, Cardiff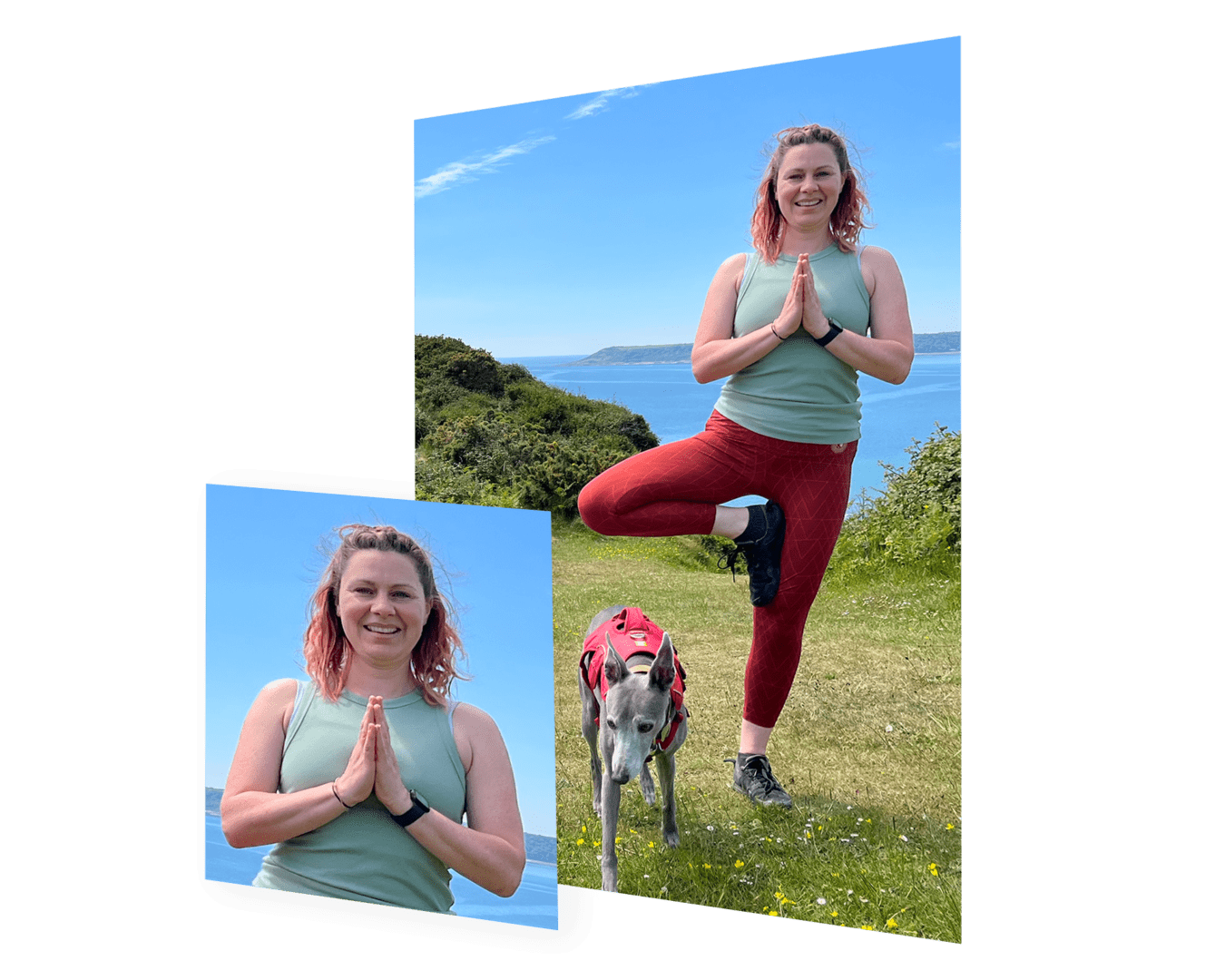 Stay committed to your self-care and be true to yourself. Do whatever is necessary on a day-to-day, minute-by-minute basis to feel your most genuine and optimal self.
Dave Fowler
BWY Yoga Teacher, Dinas Powys, Vale of Glamorgan