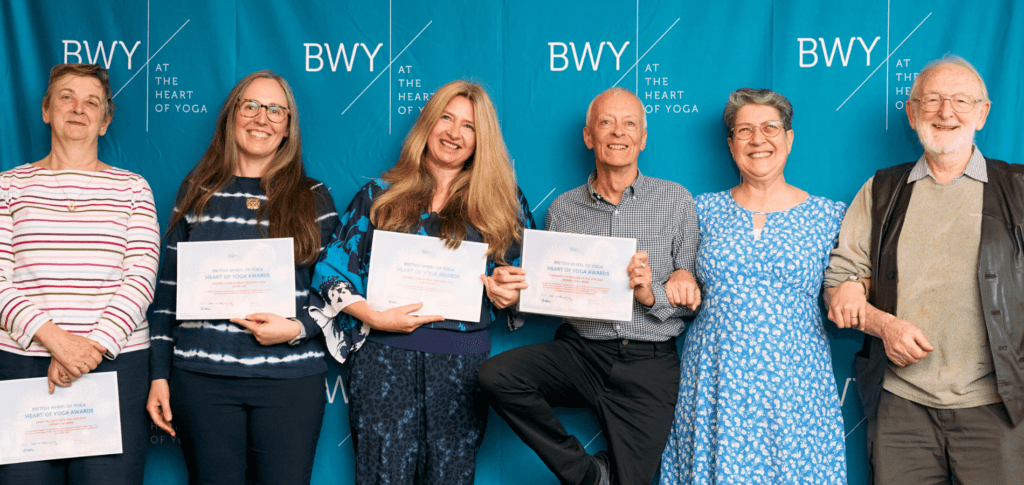 BWY announces Heart Of Yoga Award winners
To honour the dedication and support of its volunteers across the UK, the British Wheel of Yoga (BWY) today reveals the winners of its first Heart of Yoga awards. Winners of the six awards were celebrated at a ceremony in London, following the organisation's Annual General Meeting.
The awards were founded to celebrate yoga in action, as BWY operates through a network of more than 100 volunteers who work selflessly to promote our charitable aim: to bring yoga to more people. BWY wants to recognise those who are inspiring others through their actions.
'The winners have provided an extraordinary service to the BWY particularly during tough times,' said Di O'Reilly, BWY Chair. 'We are very grateful for the time and hard work that the winners and all the nominees have shown, from finding new ways to bring yoga into the communities during Covid-19, to spearheading local and national events to grow our membership. Their achievements and commitment are an inspiration to all.'
2023 Award Winners
The Anthony Grover award
Winners: Christine Royle and John Cain
The award for long service was jointly given to Christine and John who have served BWY for 80 years collectively. At 86, John is one of the organisation's oldest serving members. His achievements include building the BWY Eastern committee into one of the largest BWY regions and helping BWY achieve national governing body status in 1995.
At 82, Christine has served on the North West region's committee for more than 26 years. Her roles have included Treasurer, Regional Officer, Regional Training Officer and Cheshire County Rep. She has also supported BWY at national events and as a National Executive Committee (now Board of Trustees) member.
Rising Star Award
Winner: Sandra Cook
Sandra has travelled all over Scotland during her first year as head of region, recruiting six new committee members, collaborating with Yoga Scotland and Grampian Yoga and somehow finding time to bring yoga organisations together to raise £10k for the Disaster and Emergency Committee's Ukraine appeal.
Community Champion Award
Winner: Davy Jones
Davy Jones is honoured for his work to improve access and inclusivity of yoga by bringing free yoga programmes to Brighton's more vulnerable community members. Since 2016, he has raised over £110k in grants to support women recovering from domestic abuse and sexual violence, people with mobility issues or recovering from illness, homeless people and refugees.
Ambassador of the Year Award
Winner: Ilkay Oczan
Since becoming Eastern Regional Officer in 2021, Ilkay has led the region through the pandemic enlisting six new members to the team, organizing a 'meet the committee' day to help embed new members and embracing live streaming to bring yoga to more people. She also spearheaded the national effort to raise awareness and funds in support of the Red Cross Turkey appeal.
Education Champion of the Year Award
Winner: Laura Le Feuvre
Champion of new learning technology, Laura led the London regional committee to be an early adopter of online yoga sharing with embrace Zoom, by putting on innovative events for continued learning during the pandemic and providing education tools to ease teachers' transition to hybrid teaching when restrictions eased.
Event Volunteer of the Year
Winner: Jo Webb
Jo has led 47 in-person events and 19 online in her tenure on the South West Committee as Somerset County Rep. Last year, her efforts to organise regional Sangha across two venues, together with an online event, reached more than 150 members.
About BWY
British Wheel of Yoga (BWY) is committed to promoting a greater understanding of yoga and its safe practice through experience, education, study and training. Serving 5000+ members across the UK, BWY is a leader in developing high-quality yoga teacher training and champions yoga through events and festivals across the UK. A registered charity and established in 1965, BWY is recognised as the National Governing Body for Yoga by Sport England and Sport Wales.