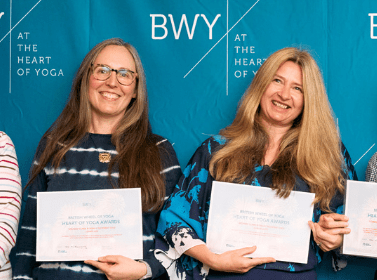 BWY announces the winners of its annual bursary programme
We are delighted to award the Wilfred Clark Bursary to Jenny Loe from Herne Bay in Kent and Sarah Gott of Forest Row in Sussex who both demonstrate outstanding achievement in bringing yoga to the more vulnerable members of society and the financial need to pursue further training in support of their work.
'After a hiatus during the pandemic, we are delighted to relaunch our bursary programme,' said Di O'Reilly, BWY Chair. 'The Wilfred Clark Bursary is designed to encourage BWY yoga teachers to undertake further training to support people with additional needs. As a judge, I was particularly impressed by the progress and dedication that both Sarah and Jenny showed in bringing yoga into the lives of people that need it most.'
With her five years' experience teaching yoga in a range of care settings, Jenny Loe impressed judges with her passion to support people with diverse needs including severe physical disability, learning and communication challenges.
Sarah Gott was awarded for her work with Early Action Autism and St Piers college teaching yoga to children and adults with severe learning difficulties and complex needs. After setting up her business with the purpose to improve the accessibility of yoga, Sarah was recently awarded the most accessible yoga company in Sussex.
Both award recipients receive certificates of achievement at the BWY Annual General Meeting on Thursday 4 May and £500. They both plan to put the funds towards a yoga for special needs course run by BWY teacher, Richard Kravetz.
BWY CEO, Peter Tyldesley said: 'As the National Governing Body for yoga, the BWY actively promotes inclusion. Our Wilfred Clark Bursary award is a great incentive to help people with disability or disadvantage achieve their full potential. We look forward to developing further courses and course modules with Sarah and Jenny in the future.'
The bursary was founded in 1981 in memory of Wilfred Clark, the founder of the British Wheel of Yoga (BWY) to support BWY teachers wanting to extend their training to teach people with special needs.
About BWY
British Wheel of Yoga (BWY) is committed to promoting a greater understanding of yoga and its safe practice through experience, education, study and training. Serving 5000+ members across the UK, BWY is a leader in developing high-quality yoga teacher training and champions yoga through events and festivals across the UK. A registered charity and established in 1965, BWY is recognised as the National Governing Body for Yoga by Sport England and Sport Wales.