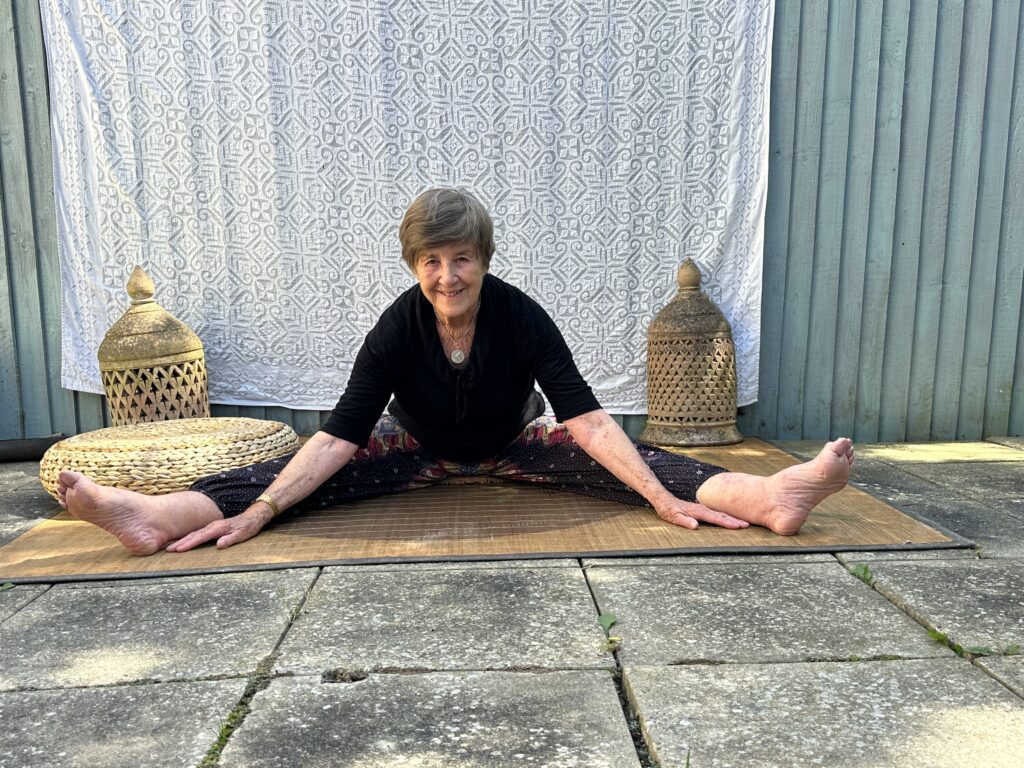 Jill May defies age through yoga, dance and lifelong learning
At 84, Jill May believes the secret to health and happiness in old age is to stay active and continue learning. Since turning 80, she has qualified as a yoga teacher with the British Wheel of Yoga, specialised in teaching Gentle Years Yoga™ and has developed a chair-based yoga programme to improve the well-being of older adults in residential care.
With an ageing population in the UK and the increasing demands placed on NHS services and social welfare, Essex-based Jill has made it her mission to help others lead more independent lives – she even has a workout channel for Active Essex, a county-wide initiative to get people moving.
Jill said: "Getting older should not be synonymous with disease and discomfort. My hope is that engaging in forms of activity that promote health and well-being will become the norm."
Jill has always led an active life. From teaching dance exercise classes during her teacher training to becoming a PE teacher in her hometown of Frinton-On-Sea, her appetite for engaging in new forms of exercise has never ceased. She was even among the early adopters of yoga when yoga classes were first taught in the 1960s.
Jill says: "I was invited to attend a yoga class by the father of two of the children I taught. Dr Keki Sidhwa was a hatha yoga pioneer and an inspirational guide who claimed that yoga helped cure him of a deadly strain of typhoid. I enjoyed the classes so much that I began my own dedicated yoga practice based on many of the techniques he taught."
Yoga became a useful ally to Jill, particularly when she studied contemporary dance at Sussex University at 40. While many dancers succumbed to chronic injury and pain in their advancing years, yoga helped Jill to avoid these challenges by gradually building and sustaining the elements of balance, control and strength.
Dance gave Jill a new direction and at 45, she set up the 'Bodyworks' dance centre in Colchester, offering a wide range of dance disciplines. She launched her own training programme, The Bodywork Exercise Method, and even wrote her first book entitled 'A reference manual for teachers of dance exercise'.
Her work led to her appearance on the BBC Watchdog programme where she was asked to rate workout videos and identify safe programmes for the public to follow.
After selling her dance studio to retire, Jill was headhunted by the YMCA to quality control its national exercise and fitness programmes so that it could stay one step ahead of the competition.
Jill said: "Working with a leader in the fitness industry gave me valuable insight into how exercise and fitness can inspire future health and fitness professionals. It was immensely gratifying to provide quality training and help people evolve their careers in this industry."
Moving to Carcassonne in France in semi-retirement, her appetite for learning never dampened. She gained her Level 3 Matwork qualification in Stott Pilates and started teaching yoga and pilates to a thriving ex-pat community.
Her yoga teaching continued after moving back to the UK age 77 and her resolve to teach strengthened even more after her husband became unwell and required residential care.
Jill said: "With my husband less physically able, I recognised the need to teach accessible chair-based yoga so he could enjoy the mental and physical health benefits movement brings."
It was an introduction to chair yoga with Peter Blackaby that inspired Jill to study Gentle Years Yoga, a chair-based yoga programme offered by the British Wheel of Yoga. After qualifying in 2022, Jill now teaches regular chair-based yoga classes for Clacton Voluntary Services Training (CVST) in Harwich Dovercourt Hub and has devised and launched a 'Mindful Moveability Chair-based Yoga' programme for residents in care.
Jill said: "It was during my husband's first care home stay the manager asked me to put together a programme to improve the health and mobility of the residents. It is amazing to see how it helps to bring the less able back to a place of comfort and ease in their bodies so they can lead happy, healthy and more independent lives."
About BWY
British Wheel of Yoga (BWY) is committed to promoting a greater understanding of yoga and its safe practice through experience, education, study and training. Serving 5000+ members across the UK, BWY is a leader in developing high-quality yoga teacher training and champions yoga through events and festivals across the UK. A registered charity and established in 1965, BWY is recognised as the National Governing Body for Yoga by Sport England and Sport Wales.