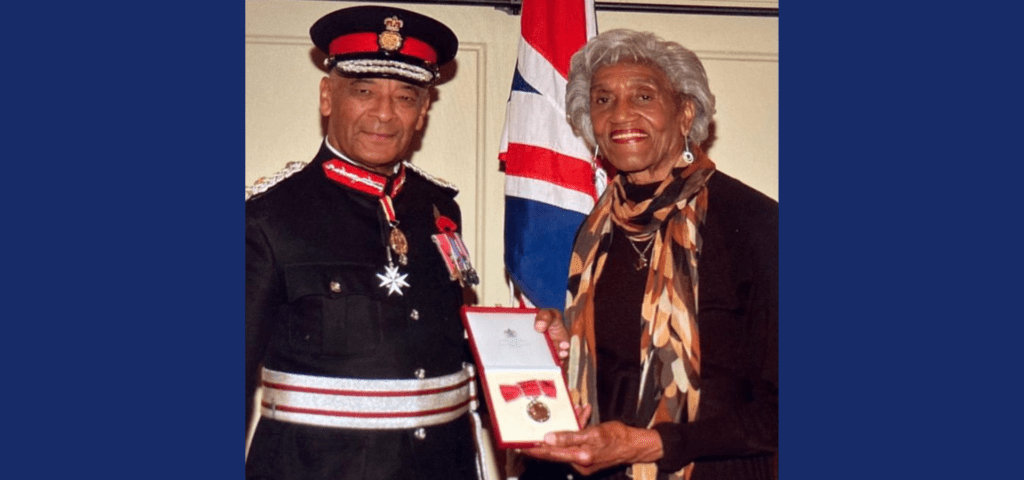 Monica Burton honoured for transforming lives
A British Wheel of Yoga (BWY) teacher and mentor, has been honoured with the British Empire Medal for services to yoga at a prestigious ceremony held at the Tower of London on Friday 3 November.
Monica Burton, a former nurse living in Harrow, has dedicated herself to helping older people and those with multiple disabilities reclaim a good quality of life through yoga. Her teaching and compassion have touched countless lives and her 'Yoga for the Third Age' course has been a source of inspiration for teachers across the world.
Monica's nomination came from one of her former students, Dr. St John, who has been a steadfast supporter throughout her career as well as supporting statements from the hundreds of teachers who have successfully built their yoga practices based on her teachings.
"I am delighted and humbled to receive this award", said Monica. "This recognition serves as a powerful testament to the benefits of yoga and its potential to create positive change in the world."
Having moved to Eastham from Jamaica to pursue a nursing career in 1953, Monica soon found her specialty in geriatric care. Working with older adults with complex needs on a daily basis, Monica's interest in yoga grew as she recognised how the health benefits of yoga could add real value to her work.
In 1982, Monica started her Yoga Teacher Training in Middlesex with the British Wheel of Yoga with Janet Southall. The two-year course helped build her confidence to start her own classes at the hospital where she worked.
Monica said: "The course gave me a great foundation so that I could offer remedial yoga classes at the hospital and set up my own private practice. After successfully treating one client via GP referral, I never needed to advertise again as I had a constant stream of recommendations."
In 1986 Monica qualified as a Diploma Course Tutor for the BWY and due to the huge demand to train, with three people applying for each course place, she taught two yoga teacher training courses simultaneously to meet demand.
As her local reputation grew, Brent Council recognised how Monica's talents could be used within its day centres for people with additional needs. The council piloted yoga at its main day centre – Strathcona – over three months. According to Monica, the day centre workers were astonished when a girl with cerebral ataxia which includes symptoms such as shaking, was able to lie still on her back for five minutes. Following the success of the pilot, Brent Council introduced yoga to all its other day centres.
Monica said: "Working with people with complex needs meant that I often had to think creatively. Yoga was a great way to help people 'feel' when they didn't have other functional senses. It gave me a wealth of experience that I could draw on for teacher training and I love a challenge! On my first yoga teacher training course, I even taught a blind lady."
By 2000, Monica's involvement with the BWY grew and as the Regional Officer for the London committee, she approached Greenwich Council to run a yoga show in Battersea Park, to offer free yoga for all. It was heavily promoted by the council and hundreds of people took part.
Monica ran the first in-service training programme for BWY as well as being asked to write a new module – Yoga for the Third Age. Monica's work with older adults inspired the authors of the current BWY Gentle Years Yoga course. It was during a CPD weekend at Yorkshire Yoga in Knaresborough, that Monica helped a man who could barely walk after an operation to get up from his chair.
She said: "All I did was give him the confidence to get up from the chair. After some joint-freeing exercises, he was able to stand tall in mountain pose (tadasana) and walk across the room with the aid of a zimmer frame. His wife was amazed at the change in his posture."
Monica has now trained more than 40 teachers to run the Yoga for the Third Age course and taught hundreds of people to teach yoga.
She said: "I am inspired by the countless lives touched by this practice and at 88, I will continue to spread its message far and wide through my teachings."
About BWY
British Wheel of Yoga (BWY) is committed to promoting a greater understanding of yoga and its safe practice through experience, education, study and training. Serving 5000+ members across the UK, BWY is a leader in developing high-quality yoga teacher training and champions yoga through events and festivals across the UK. A registered charity and established in 1965, BWY is recognised as the National Governing Body for Yoga by Sport England and Sport Wales.